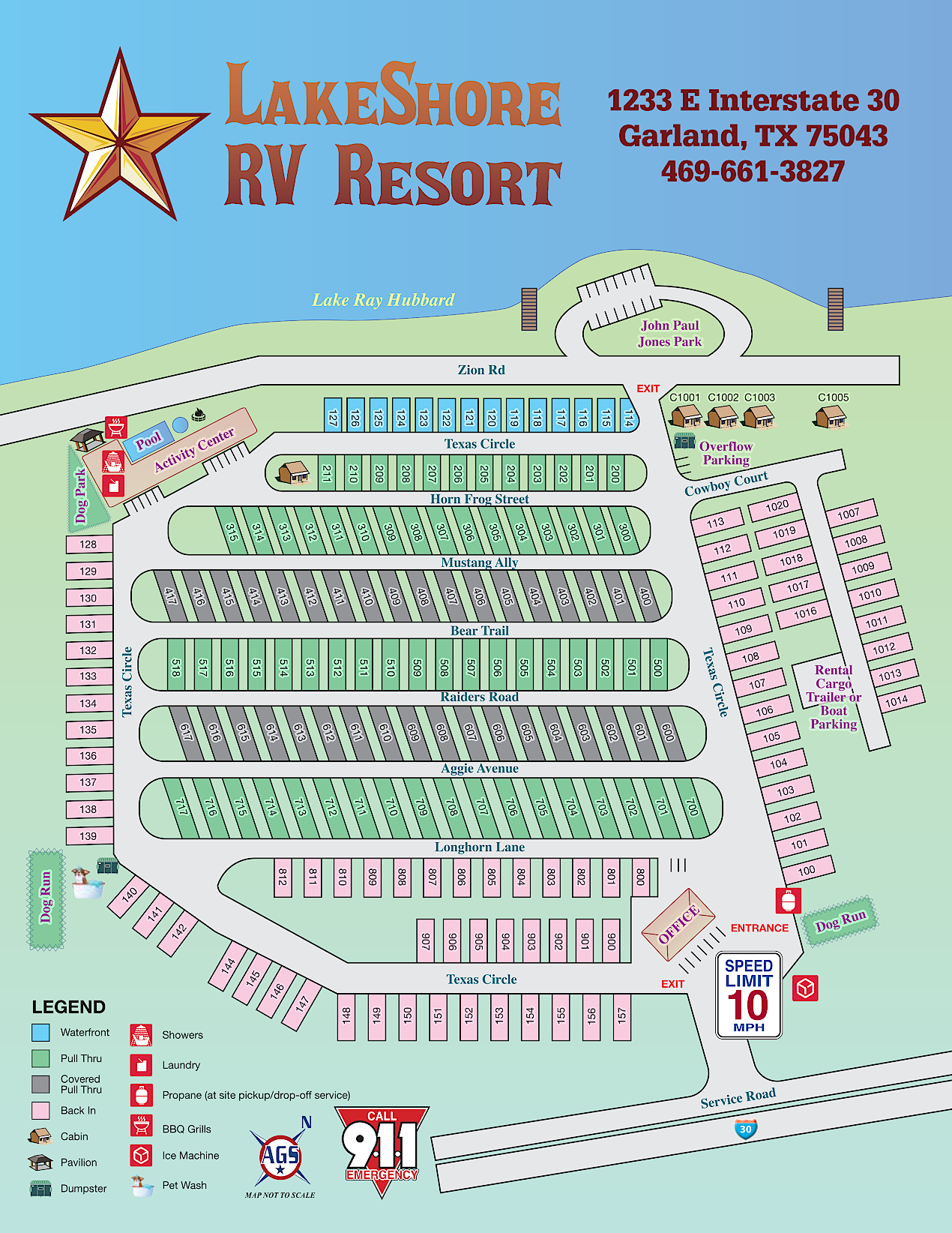 Payment Terms: Rent is due on the first (1st) of each month. A $50 Late Fee will be charged to all tenants on the 4th day delinquent on rent. On the 5th day delinquent, a $25 Late Fee will be accessed each day until rent is paid in full. You have three options of payment: Cash, Credit Card, or Check. If you are unable to come into the office before we close for the day, there is a lock box to the left of the front door. A receipt will be emailed to you at the email address on file.
A 3% credit card processing fee will be applied to each credit or debit card transaction.
Resort Fees: $6 for the entire nightly reservation. $6 per week on a weekly reservation. $12 per month on a monthly reservation.
All Campers and their Guests: All visitors and guests must be registered with the office before entering the premises. You are responsible for registering your guests, as well as their behavior, while staying on property. Our pricing is based on double occupancy. If there are three or more, there is a $4 per night fee, $29 per week.
Check Out Time: 11:00am Check In Time: 2:00pm. Arrangements can be made for early check in/out based on availability for $20.
RV Set-Up and Site Rules: Use RV jacks only. No steps other than attached to camper and no screened rooms or tents. Pallets, garbage cans and storage sheds are NOT allowed. Nothing is to be stored under or around the RV site. Water is not permitted to leak from RV or hose. Campers must use a sewer ring and/or sewer connector. Sewer hoses must be elevated off the ground with a sewer stand. No clotheslines, for sale signs, outside refrigerators, freezers, exercise equipment, or window air conditioners. No ATVs or 4 Wheelers allowed out of trucks or trailers. Boats are allowed in designated sites; however, they must fit on pad sites without hanging over into main thorough fares. The site must always be kept clean. We encourage you to wash your RV with a water restrictor sprayer. RVs must remain clean in appearance and in good repair. No clutter in the yard, 3 plants per site. Lawn maintenance is done every week. We must be able to mow your site without moving things around and then putting them back. NO digging, tethering, staking whatsoever, as we have cable, Wi-Fi, irrigation, and other underground utilities throughout the park. Please note that these rules are designed to help us keep a clean and safe Campground for everyone.
Satellite Dishes: NO DIGGING PERMITTED. Do Not place on grass, as mowers may cut the cable or knock the satellite out of tune.
Traffic & Vehicle Parking: Speed limit is 10 MPH throughout the resort. Exit in the direction of the site to avoid campground equipment damage. No parking on the road or on the grass. Do not park on or over the grass. Improper parking or unauthorized parking are subject to fees and/or towing at the vehicle owner's expense. Do not park in other sites that are not yours. Maximum (1) RV and (2) vehicles per site. Vehicles are not allowed to park on the roadway or on the grass. Cargo trailers and boats are only permitted at designated sites, (Pull Thru ONLY). Additional vehicles must be registered. No repairs are allowed on cars or trucks of any kind. All vehicles must have current Vehicle Tags. Broken down vehicles are not permitted and will be towed at the vehicle owner's expense.
Vehicle Leaks, Oil Spills, Fluids, Gray or Black Tank Leaks: Please do not allow any motor oil, vehicle fluids, gray or black holding tanks to leak from your vehicle or RV. A cleaning fee will be assessed if this happens (up to a max of $150 for cleaning up the spill).
Quiet Hours: Sunday-Thursday 10pm-7am, Friday & Saturday 11pm-7am. Loud noises will not be tolerated at any time. DO NOT WALK-THROUGH OCCUPIED SITES!
Children: This is an Adult Oriented Resort. Children are permitted with nightly guest or to visit on weekends. No extended stay children permitted. Children ages 5-17 are only permitted to stay up to 10 nights. For example, Spring Break or Summer Vacation and must be registered at the office with each visit. Children under the age of 14 are NOT allowed in restrooms, showers, swimming pool, on grounds, or any other resort facility without adult supervision. Parents are responsible for the conduct of their children at all times.
Pets: We are a "Pet Friendly" Campground. However, there is a 2 pet per site policy and all pets must always remain on a leash when not in the off leash dog run. NO Pit-related breeds or aggressive dogs of any kind allowed. Pets are not to be left unattended at any time. If your pet makes a "deposit" it is your responsibility to clean up after your pet. A $25 fee will be charged if you don't pick up behind your pet, at your site, in the designated dog area, or anywhere on the property. Pet owners are financially responsible for any damage caused by their pet. Pets are not allowed in any resorts buildings which Include the office, pool area, laundry room or restrooms. Continuously barking dogs will NOT be tolerated. We do allow cats. However, cats are always to be left INDOORS unless the cat is leash trained. NO dog fences, pet pens, crates, or unattended tethered pets. No canopy or animal tethers are to be staked in the ground due to irrigation and underground utilities. Pets are to be up to date on all vaccinations.
Pool Area: Pool hours are 10am to 8pm for all swims. 8pm - 10pm ADULTS ONLY. NO LIFEGUARD on duty - Swim at your own risk! All children under 16 years of age must have adult supervision. Children that cannot swim must wear a life jacket or a swimsuit with a flotation device built in. Babies and toddlers must wear a swim diaper.
NO GLASS containers or smoking allowed in or around pool area. No running, diving or horseplay allowed. No wet swimsuits are allowed in the main buildings, restrooms, or showers. No personal "kiddie" pools permitted at sites.
Alcohol Consumption: Alcohol consumption is permitted within your RV site and common areas; however, public intoxication will not be tolerated, law enforcement will be notified. Please drink responsibly.
Trash: Trash pickup at your site is not available. Tie plastic bags securely and place in dumpster. Dumpsters are conveniently located in 2 different areas of the resort. Please do not leave your trash outside your unit.
Campfires: Campfires are allowed in above ground fire pits, only on cement and at designated spots such as waterfront sites and community firepit located at the activity center. Be mindful of smoke drifting into your neighbor's RV.
Smoking: All buildings and pool/spa are "Smoke Free Zones." Please keep all cigarette butts off grounds, off RV Sites, off parking spaces and around park buildings. Please dispose of cigarette butts in the ashtrays provided at the entrance of resort buildings. A courtesy warning will be issued for littering cigarette butts, then a 2nd offense will result in a $25 clean-up fee.
Language: Use of slanderous, foul, threatening or vulgar language will be grounds for eviction. Our intention is to maintain a civilized, well-mannered Resort for all.
Firearms/Fireworks: Fireworks are prohibited. We do not permit open carry of a firearm on our premises. This is considered trespassing, and we will prosecute! "Pursuant to section 30.07, penal code (trespass by license holder with an openly carried handgun) a person licensed under subchapter H, chapter 411 government code (handgun licensing law) may not enter this property with a handgun that is carried openly." Illegal activities of any sort are strictly prohibited.
Office Hours: 8:30am - 6:30pm Monday-Friday, 8:30am - 6pm Saturday, 10am - 6pm Sunday. In case of an emergency call 911. There is an emergency phone number provided in the office window and information box.
Contact and Payment Information: It is the guest's responsibility to keep us updated on any address, phone number or payment detail changes.
Lost or Stolen Property: Lakeshore RV Resort is not responsible for lost, stolen or damaged property. Contact Garland Police Department for assistance or to report a crime. If you are reported to Law enforcement for any reason other than medical or fire emergency, you will be asked to leave at the time with no refund or prorating of your site cost. Calling to report a crime, a concern for a neighbor, personal or park property will always be appreciated.
Relocation if Necessary: Should a maintenance challenge occur at or around your site, you may be required to relocate to another site.
Mail: Lakeshore RV Resort is a transient community and is not affiliated with residential long-term housing. We do NOT receive your personal or business mail, packages, or deliveries. Your mail should NOT be forwarded to our address. Guests are NOT permitted to use our address to register with us nor is anyone permitted to use our address for driver's license or ID's. There are various post offices, pack n post, amazon hubs and other local businesses to accommodate your postal needs.
Enforcement of Rules and Regulations: We will strictly enforce all policies and conditions in our Rules and Regulations. We do not make exceptions. "We have made every effort to provide our guest with a safe and comfortable experience. However, all people entering the resort do so at their own risk. Management is not responsible for damages, injuries, or loss to either person or property. LakeShore RV Resort is a close-knit community, and as such, the community has a ZERO TOLERANCE POLICY. Refusal to abide by rules is grounds for eviction. The following information is for your reference. It contains some important Rules and Regulations about the policies of Lakeshore RV Resort. We reserve the right to refuse or discontinue service. We appreciate your business and trust that you will have a pleasant stay with us.